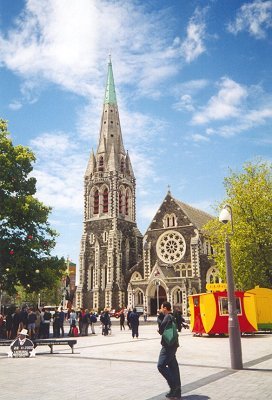 Welcome to the online photo album of my visit to the city and surrounds of beautiful Christchurch, New Zealand - 21 to 29 November 2000.
The photo at the left shows the heart of the city, Cathedral Square, with an emphasis on Christ Church Cathedral used by members of the Church of England, the majority local religious faith.
As interesting and worthwhile as it would be to create an album of photos that display conventional Christchurch scenes such as this one, it is the dominant purpose of this site to show and explain various locations from both the movie Heavenly Creatures (first released in 1994) and the real life events from the early 1950s upon which it was based.
This site is dedicated to one of the lead actresses in that movie, Kate Winslet (Titanic) seen here in her first feature role, and the film's director Peter Jackson (now responsible for the current Lord of the Rings movie trilogy). Their talents in particular were a tremendous inspiration for me to go to Christchurch, thoroughly explore the place, take many photos, and ultimately share my experiences online by creating the Website you are now accessing.
Whether you are a fan of Heavenly Creatures and/or some of the cast and production crew, know little or nothing of the movie but are interested to find out more, or simply want yet another excuse to explore a magnificent, friendly country, I warmly welcome you to my Heavenly Christchurch site and hope that you enjoy your stay.
A similar movie locations/travel site for Point of View/Vancouver, Canada
A similar movie locations/travel site for films set in Sydney, Melbourne, and Perth, Australia