Filmographies

The cast of Phantasmagoria is quite an interesting group of performers. The character with by far the largest role, Adrienne, is played by an individual with a relatively small amount of documented professional acting experience while some of the minor characters' actors possess extensive filmographies. Nonetheless, they all do a splendid job in their respective roles and work well together. Presented below is a compilation of all the movie and television related information I, with the occasional help of The Black Wolf, Kara Johnson, Bogdan, and Enzo could find on these people from the Internet and elsewhere.

Details are listed in descending chronological sequence apart from occasional summary information at the end of most filmographies that was difficult to place in proper order. All listed dates are USA (first?) release dates. Stage performances (if applicable) are not included. While I make no claim regarding the accuracy of the contents of these listings, entries I consider to be of definite or almost certain veracity have been marked with an asterisk [*].

---

Lead Actors

Adrienne Delaney Character Profile
Movies:

Cult Master, The (199?)
Savage (199?)
Random Factor, The (199?)
* Deceptions (1990) [Made for TV movie] .... Sandwich Girl
* Wizards of the Lost Kingdom II (1989) .... Priscilla (=Maiden #1) in an all too brief two minute appearance as a dungeon prisoner who is liberated by the heroes. Victoria is younger in this movie than in Phantasmagoria, so she is not immediately recognisable.
* Saturday the 14th Strikes Back (1988)
Drop Dead
Twelfth Night

Television:

*Highly Recommended* The Outer Limits - Episode 40 - "Falling Star" - (30 June 1996) .... Candace, an alien of human appearance who experiences a passionate sexual encounter. She and her fellow extraterrestrials take on the form of human beings and pose as a failing human singer's band members and fans. Victoria's role in this episode is not particularly prominent, but she is easily recognisable to Phantasmagoria players.
*Highly Recommended* Renegade - Episode 80 - "Hound Downtown" - (15 January 1996) .... Angela Baskin/Mary Polisokowski, an actress who pretends to be of British origin and works in New York City as con artist Jimmy "The Hound" Moriarty's office secretary. When she realises The Hound is not attracted to her as she supposed, she drops her deception and helps Reno (the Renegade) to track the con man down and pay back his victims. Victoria is easily recognisable to Phantasmagoria players and displays a wide range of expert acting abilities.
Beauty
Down the Shore
Fresh Prince of Bel Air
Martin
* Wayans Brothers Show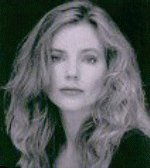 Back to top
---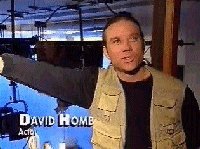 Donald Gordon Character Profile
David Homb is 5' 10" tall, has blue eyes, light brown hair, and weighs 145 lbs. His special skills include: dance, horseback riding, motorcycling, fencing, weapons use, racquetball, tennis, bowling, skiing, swimming and frisbee. He may be contacted via: P.O. Box 2301 Toluca Lake, CA. 91610 [Telephone: (213) 856-8916] in the USA.

According to a friend of Mr. Homb's, David occasionally holds acting seminars and was raised in the state of Texas (which explains Don's hint of a Southern accent in Phantasmagoria). People often kid him that all his characters seem to end up as dead men. He stars in the upcoming cd-rom adventure - Alien Species by American Interactive Pictures.
Movies:

Jork's Adventure (199?) .... possibly renamed prior to release
Cult Master, The (199?) .... possibly renamed prior to release
* Shock 'Em Dead [aka Rock 'Em Dead] (1991) .... Izzy
* Street Soldiers (1991) .... Troy - in this martial arts film
Witchcraft II: The Temptress (1990) .... Boomer
* Channeler, The (1989)
Deadly Blessing
Dream House
Kiss of Death
Mente Criminal
Millennian
Rings
Salem's Ghost

Television:

The Drew Carey Show - (26 February 1997) .... Reverend Jim - a Jim Morrison look-alike
JAG - (21 [or 28?] February 1997) .... Recommended viewing!
Days of Our Lives (two episodes)
Down Home
Hard Copy (two episodes)
Unsolved Mysteries (two episodes)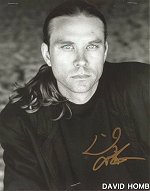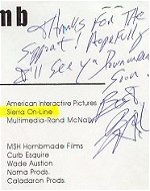 Back to top
---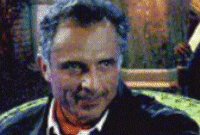 Zoltan "Carno" Carnovasch Character Profile
Movies:

Laws of Deception .... (1997)
Donnie Brasco .... (1996)
3 Ninjas Kick Back (1994) .... Shuttle Driver
Midnight Kiss (1993) .... Capt. Nicoletti
Quest of the Delta Knights (1993) .... Incense Merchant
* Sliver (1993) .... Detective Howard
Taxi Dancer (1993) .... Miguelito
Bikini Summer II (1992) .... Joshua
Deadly Rivals (1992) .... The Interrogator
Blue Desert (1991) .... William Karp
Diplomatic Immunity (1991/I) .... Serrano
Last Hour, The (1991) ... aka Concrete War (1991)
Rain Killer, The (1991) .... Allenby
* Time to Die, A (1991) .... Eddie (a brutal, corrupt cop). He has a very prominent character in this film.
Easy Wheels (1989) .... Nick
Ministry of Vengeance (1989) .... Ali Aboud ... aka Helden USA 4 (1989)
China Girl (1987) .... Enrico Pento
Open House (1987) .... Shapiro
Weeds (1987) .... Parole Board
Hollywood Vice Squad (1986) .... Luchessi
Fear City (1984) .... Hitman ... aka Ripper (1984)
Firestarter (1984) .... Blinded Agent
Kiss Me Goodbye (1982) .... Michael
Vice Squad (1982) .... Duty Sergeant
Alex and the Gypsy (1976) .... Young Shepherd ... aka Love and Other Crimes (1976)
Badge 373 (1973) .... Sweet William's hood
Death Wish
Opposite Corners
Serpico
The Funeral

Television:

* Caroline in the City (11 April 1996) .... Pauly Brown: a gangster whose wife commissions a nude portrait of herself without her husband's knowledge.
General Hospital .... Joe Scully
* Frasier (27 January 1994) .... Rocco
Blindfold: Acts of Obsession (1994) .... Officer Parker
El Diablo (1990) .... Bandit #1

Back to top
---

Other Actors

Movies and Television:

For Love or Money (1993) .... Freddy ... aka Concierge, The (1993)
* Aladdin (1992) (voice) .... Sultan of Agrabah in this Disney animated feature
Almost an Angel (1990) .... Father
Mr. Destiny (1990) .... Boswell
Rescuers Down Under, The (1990) (voice) .... Krebbs
Ghostbusters II (1989) .... Plaza Hotel Man
Ernest Saves Christmas (1988) .... Santa
Haunted by Her Past (1987) (TV)
Heaven Help Us (1985) .... Brother Domenick ... aka Catholic Boys (1985)
Amadeus (1984) .... Count Arco
Back to top
---
Movies and Television:

* The X-Files: The Calusari (1995) (TV) .... Golda, a Romanian grandmother
Pumpkinhead II: Blood Wings (1994) .... Miss Osle
Tonya & Nancy: The Inside Story (1994) (TV) .... Skating Judge
No Place to Hide (1993) .... Mother Superior
Round Trip to Heaven (1992) .... Chaperone
Universal Soldier (1992) .... Mrs. Devreux
For the Very First Time (1991) (TV) .... Sister Eugenia
True Identity (1991) .... Police Station Woman
Bad Influence (1990) .... Art Gallery Patrons
Predator 2 (1990) .... Irene Edwards
Listen to Me (1989) .... French Professor
Nutcracker: Money, Madness & Murder (1987) (TV mini series)
Born in East L.A. (1987) .... German Woman
Private Benjamin (1980) .... Mrs. Tremont
Portrait of a Stripper (1979) (TV) .... Yvette
Funny Lady (1975)
Medical Story (1975) (TV) .... Mrs. Goodman
Mephisto Waltz, The (1971)
Machismo - 40 Graves for 40 Guns (1970) .... Kate
Yours, Mine and Ours (1968) .... French Actress on TV Screen
North to Alaska (1960) .... Jenny Lamont ... aka Go North (1960)
Walk Like a Dragon (1960) .... Mme. Lili Raide
Wreck of the Mary Deare, The (1959) .... Nun
Cafe American (TV)
Back to top
---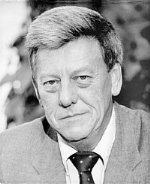 Hoke Howell passed away in 1997.
Movies and Television:

* JAG - Season 2, episode 9. "Washington Holiday" - (28 February 1997) .... US Senator
Bikini Drive-In (1995) .... Attorney
Jack Reed: A Search For Justice (1994) (TV) .... Sheriff Hargrove
Killing Jar, The (1994) .... Inspector ... aka Trapped (1994)
Rockford Files: I Still Love L.A., The (1994) (TV) .... Ed Emmanthaler
* Roswell (1994) (TV) .... Bar Vet
Angel Eyes (1993) .... Jerry
Geronimo: An American Legend (1993) .... Billy Pickett
Far and Away (1992) .... Crew Boss
Another 48 HRS. (1990) .... Desert Bartender
Haunting Fear (1990) .... Father Corpse
B.O.R.N. (1988)
Vendetta (1986) .... Deputy Curly
Avenging Angel (1985) .... 7 Finger Sid
Alcatraz: The Whole Shocking Story (1980) (TV) .... Store Owner
Humanoids from the Deep (1980) .... Deke Jensen ... aka Monster (1980)
Grand Theft Auto (1977) .... Preacher
Kingdom of the Spiders (1977) .... Earl Forbes
Klansman, The (1974) .... Bobby Poteet
Marlowe (1969) .... Intern
Here Come the Brides (1968) (TV) .... Ben Jenkins
Shenandoah (1965) .... Crying Prisoner
Action USA
Andy Griffith (TV)
Blue Knight (TV)
Bodies of Evidence (TV)
Columbo (TV)
Demon Sword
Doc Elliot (TV)
Evil Spirits
Fall Guy (TV)
Fantasy Island (TV)
Framed
General Hospital (TV)
Guns of Paradise (TV)
Here Come the Brides (TV)
Houston Knights (TV)
McCloud (TV)
Oregon Trail (TV)
Outlaws (TV)
Palmerstown (TV)
Quincy (TV)
Remington Steele (TV)
Stone Killer
Terminal Force
The Klansman
The People Next Door (TV)
The Rookies (TV)
Trespass
Unsolved Mysteries (TV)
Webster (TV)
Wonder Years (TV)
You Can't Take It With You (TV)
Back to top
---



STELLA STEVENS
[aka Estelle Egglestone]
("Lou Ann")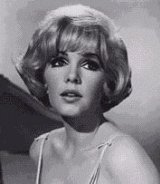 Movies and Television:

Virtual Combat (1996) [Actress]
Body Chemistry 4: Full Exposure (1995) [Actress]
Granny, The (1995) [Actress .... Granny]
Nutt House, The (1995) [Actress]
Hard Drive (1994) [Actress .... Susan]
Illicit Dreams (1994) [Actress .... Cicily]
Point of Seduction: Body Chemistry III (1994) [Actress .... Frannie Sibley]
Eye of the Stranger (1993) [Actress]
Molly & Gina (1993) [Actress .... Mrs. Sweeny]
Down the Drain (1990) [Actress .... Sophie]
Exiled in America (1990) [Actress]
Last Call (1990) [Actress .... Betty]
Mom (1990) [Actress .... Beverly Hills]
Terror Within II, The (1990) [Actress .... Kara]
Jake Spanner, Private Eye (1989) (TV) [Actress]
Ranch, The (1989) [Director]
Man Against the Mob (1988) (TV) [Actress]
Adventures Beyond Belief (1987) [Actress] ... aka Neat and Tidy (1987)
Fatal Confession: A Father Dowling Mystery (1987) (TV) [Actress]
History of White People in America, The (1986) (Volume II) (TV) [Actress]
Longshot, The (1986) [Actress .... Nicki Dixon]
Masterpiece of Murder, A (1986) (TV) [Actress .... Della Vance/Deb Potts]
Monster in the Closet (1986) [Actress .... Margo]
Santa Barbara (1984) (TV) [Actress .... Phyllis Blake]
Amazons (1984) (TV) [Actress .... Kathryn Lundquist]
No Man's Land (1984) (TV) [Actress]
Chained Heat (1983) [Actress]
Women of San Quentin (1983) (TV) [Actress]
Flamingo Road (1981) (TV) [Actress .... Luta-Mae Sanders]
Twirl (1981) (TV) [Actress .... Carolyn Moore]
Wacko (1981) [Actress]
Children of Divorce (1980) (TV) [Actress]
Flamingo Road (1980) (TV) [Actress .... Luta-Mae Sanders]
Make Me an Offer (1980) (TV) [Actress .... Deidre Price]
French Atlantic Affair, The (1979) (TV mini series) [Actress .... Louise Crawford]
Express to Terror (1979) [Actress]
Friendships, Secrets and Lies (1979) (TV) [Actress]
Hart to Hart (1979) (TV) [Actress]
Cruise Into Terror (1978) (TV) [Actress]
Jordan Chance, The (1978) (TV) [Actress]
Manitou, The (1978) [Actress .... Amelia Crusoe]
Charlie Cobb: Nice Night for a Hanging (1977) (TV) [Actress]
Murder in Peyton Place (1977) (TV) [Actress]
New Love Boat, The (1977) (TV) [Actress]
Night They Took Miss Beautiful, The (1977) (TV) [Actress]
Kiss Me...Kill Me (1976) (TV) [Actress .... Stella Stafford]
Las Vegas Lady (1976) [Actress]
Nickelodeon (1976) [Actress .... Marty Reeves]
Wanted: The Sundance Woman (1976) (TV) [Actress] ... aka Mrs. Sundance Rides Again (1976) (TV)
Cleopatra Jones and the Casino of Gold (1975) [Actress .... The Dragon Lady]
New, Original Wonder Woman, The (1975) (TV) [Actress .... Marcia]
Day the Earth Moved, The (1974) (TV) [Actress]
Honky Tonk (1974) (TV) [Actress]
Arnold (1973) [Actress .... Karen]
Linda (1973) (TV) [Actress]
Climb an Angry Mountain (1972) (TV) [Actress .... Sheila Chilko]
* Poseidon Adventure, The (1972) [Actress .... Linda Rogo]
Slaughter (1972) [Actress]
Stand Up and Be Counted (1972) [Actress .... Yvonne Kellerman]
In Broad Daylight (1971) (TV) [Actress]
Town Called Hell, A (1971) [Actress .... Alvira] ... aka Town Called Bastard, A (1971)
Ballad of Cable Hogue, The (1970) [Actress .... Hildy]
Mad Room, The (1969) [Actress .... Ellen Hardy]
How to Save a Marriage (And Ruin Your Life) (1968) [Actress]
Sol Madrid (1968) [Actress .... Stacey Woodward] ... aka Heroin Gang, The (1968)
Where Angels Go, Trouble Follows (1968) [Actress]
Rage (1966) [Actress]
Silencers, The (1966) [Actress .... Gail]
Secret of My Success, The (1965) [Actress .... Violet Lawson]
Synanon (1965) [Actress] ... aka Get off My Back (1965)
Advance to the Rear (1964) [Actress .... Martha Lou Williams]
Courtship of Eddie's Father, The (1963) [Actress .... Dollye Daly]
Nutty Professor, The (1963) [Actress .... Stella Purdy]
Girls! Girls! Girls! (1962) [Actress .... Robin Gatner]
Too Late Blues (1962) [Actress .... Jess Polanski]
Ben Casey (1961) (TV) [Actress .... Jane Hancock (1965)]
Man-Trap (1961) [Actress .... Nina Jameson]
Surfside Six (1960) (TV) [Actress]
Li'l Abner (1959) [Actress .... Appassionata Von Climax]
Say One for Me (1959) [Actress]
Back to top



Contents
Title - Introduction - Gameplay - Plot Synopsis - Sound and Visual Effects - Main Characters - Censorship Issues - Miscellanea
< Phantasmagoria 2 Overview Memorial Web Subsite >
[ Frames view | Comments? | Exit frames ]

© Anthony Larme 1998


(larme@hotmail.com)
https://anthonylarme.tripod.com/phantas/phfilm.html