p h a n t a s m a g o r i a
2
o v e r v i e w
m e m o r i a l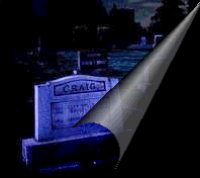 In Memoriam
Phantasmagoria 2 Overview Web Subsite
August 24 1996 - March 24 1998
RIP
*** If you like Phantasmagoria 2, try Point of View! ***
Hi Anthony! I'm so glad you enjoyed Phantasmagoria 2. - Lorelei Shannon.
Welcome to the Internet's largest, most comprehensive and original fan site dedicated to Phantasmagoria 2: A Puzzle of Flesh. Beware of low-quality unauthorised plagiarised imitations!

As Sierra On-Line's $3 million+ continuation of the popular Phantasmagoria series of horror genre computer games, Phantasmagoria 2 breaks just as many technological and censorship barriers as its famed, but often misunderstood predecessor
Phantasmagoria 1.
<<< Simple frames view >>>


© Anthony Larme 1998
[ larme@hotmail.com ]

Do you have any comments or suggestions?

https://anthonylarme.tripod.com/phantas/phantas2.html